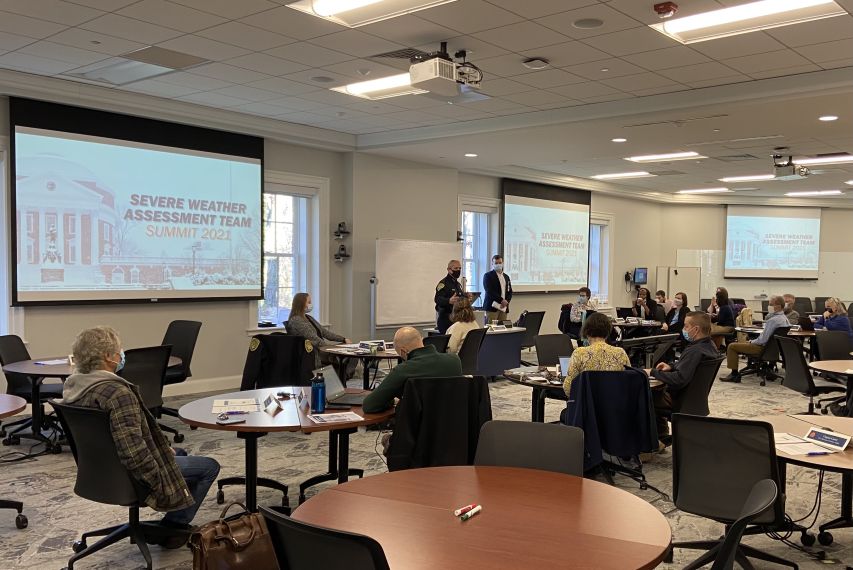 The University's Severe Weather Assessment Team (SWAT) is responsible for monitoring winter weather to determine if changes to operations on Grounds are necessary. Members of the group listen closely to weather forecasts throughout the season, and the University activates SWAT as needed when a winter storm watch or warning is issued.
In the winter of 2020-2021, the Severe Weather Assessment Team responded to a total of five winter storms which resulted in 12 impacted days on Grounds The storm that occurred during the span of February 10-14, 2021, brought three separate waves of wintry precipitation in five days. Last season was unique due to already-modified operations caused by the COVID pandemic, where 85 percent of classes were offered virtually.
The SWAT includes operational leaders from schools and departments, including Facilities Management, University Police, Business Operations, Parking & Transportation, Provost's Office, Human Resources, Student Affairs, IM-Rec Sports, Libraries, and other operational areas. Individually, these team members help direct inclement weather responsibilities for their department or unit; collectively, they help create a "big picture" of conditions on Grounds for each weather event and assess the impact on the institution's operations. When all this information is weighed, the team's responsibility is to make a recommendation to the University's Executive Vice President & Chief Operating Officer on a course of action for the academic division.
The Medical Center and health clinics, which provide highly specialized medical care to patients, have different responsibilities when deciding how to respond to a winter weather event. The SWAT stays in close contact with Emergency Management at the Medical Center to share information and provide a coordinated approach to operational decision-making across the University.
 The SWAT utilizes an emergency and operations management platform that provides a dashboard for members to access multiple weather forecasts simultaneously. The platform also provides members with additional situational awareness tools including road and sidewalk conditions, parking and transportation routes, and social media feeds from across Grounds and the region.  The technology creates a virtual emergency operations center for SWAT to monitor winter weather 24/7.
In December, the Severe Weather Assessment Team gathered to share information and prepare for its work ahead in the 2021-2022 season. The Office of Emergency Management facilitated two exercises to assess the team's ability to respond to and recover from a range of potential weather impacts. The scenarios challenged team members to question, "What are my priorities? What do I do next?", when faced with treacherous road conditions, power outages, and damaged facilities. Exercising allows team members to build relationships with colleagues across Grounds, train on new procedures, work through challenges, and identify areas for follow-up all before a winter storm arrives in Charlottesville. After a successful day of training and exercising together, the Severe Weather Assessment Team is ready to tackle any inclement weather this winter weather season has to offer!