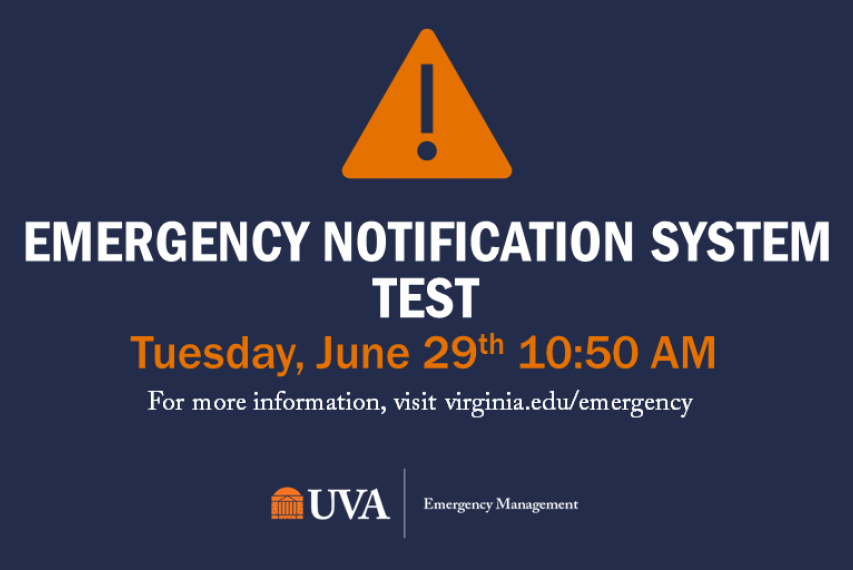 UVA Alerts is the comprehensive mass notification system that deploys urgent emergency messages to warn people of a threat on Grounds and provide instructions for what to do. The University of Virginia will test all components of the emergency notification system on Tuesday, June 29, from 10:50 am -11:05 am.
The test will include UVA's siren and public address system, which reaches across Grounds to neighboring streets.
Before the Test 
Faculty, students, and staff should take a minute to check your UVA Alerts account to add mobile numbers (and additional email addresses).
NEW! Persons without a UVA email can self-subscribe to receive UVA Alerts via text by texting "UVA" to 226787.
During the Test
At approximately 10:50 am, you will receive a test message(s) through one or more of the channels below:
Email - All current students, faculty, staff, and UVA Health Team Members with a valid UVA email account will automatically receive an email.
Text - Faculty, staff, and students who enter their mobile numbers to their UVA Alert account will receive a text.
Twitter - @UVA_EM and  @UVAPolice will tweet the Alert.
Digital Screens - Screens in public areas will display a test message.
LED screens in classrooms will display a test message and sound a tone
Online - Users on the UVA homepage or the UVA emergency homepage will see a test message.
Desktop - Everyone who has installed Alertus software and is connected to the UVA network will see a test message. (Alertus is automatically installed on all classroom and UVA Health-imaged computers.)
Siren and Public Address - The siren and public address system can be heard from many outdoor locations on and near Grounds.
VOCERA Badge and App - Select VOCERA badges and phone applications in UVA Health will receive an alert test message.
When the Test is Over
At approximately 11:05 am you will receive an "all clear" message(s). 
Real Emergency
Do you know what to do in a real emergency?
Questions?
Contact Emergency Management at UVAEM@virginia.edu or 434-982-0565.
If you have questions about the UVA Medical Center emergency notification system, contact UVA Medical Center Emergency Management at HealthSystemEM@virginia.edu or 434-982-3196.