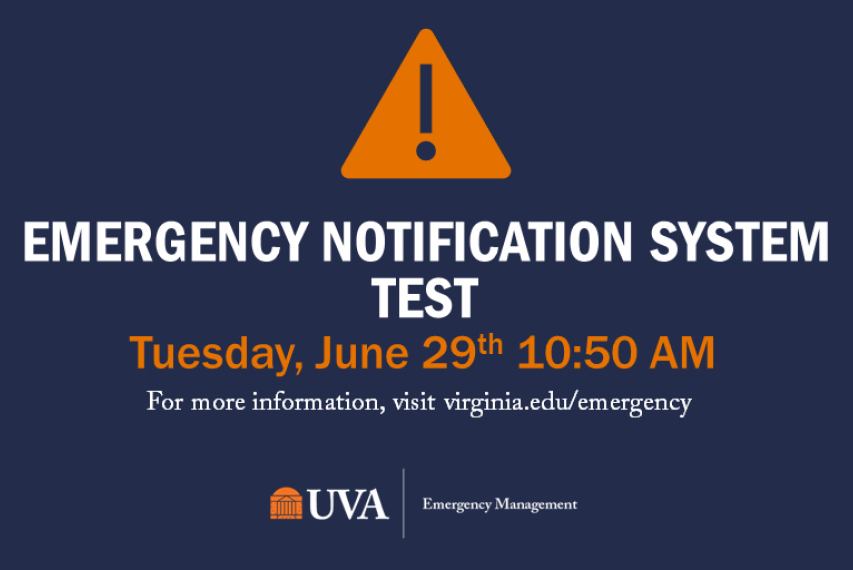 UVA Alerts is the comprehensive mass notification system that deploys urgent emergency messages to warn people of a threat on Grounds and provide instructions for what to do. On June 29, the University successfully tested all components of its emergency notification system -- including UVA's siren and public address system, which reaches across Grounds to neighboring streets. 
During the test, UVA deployed 83,866 emails to faculty, students, and staff; delivered 21,527 text messages, and sent test alert message to three twitter accounts and three websites (http://www.virginia.edu, https://www.virginia.edu/emergency, and www.virginia.edu/uvapolice) and activated 98 LED emergency notification displays, 69 digital signs, and 2,433 desktops. 
For your safety, take a moment to consider and practice what to do in a real emergency.
For questions about UVA's alert system, contact UVA Emergency Management at UVAEM@virginia.edu or 434-982-0565. For questions about UVA Medical Center emergency notification system, contact UVA Medical Center Emergency Management at HealthSystemEM@virginia.edu or 434-982-3196.