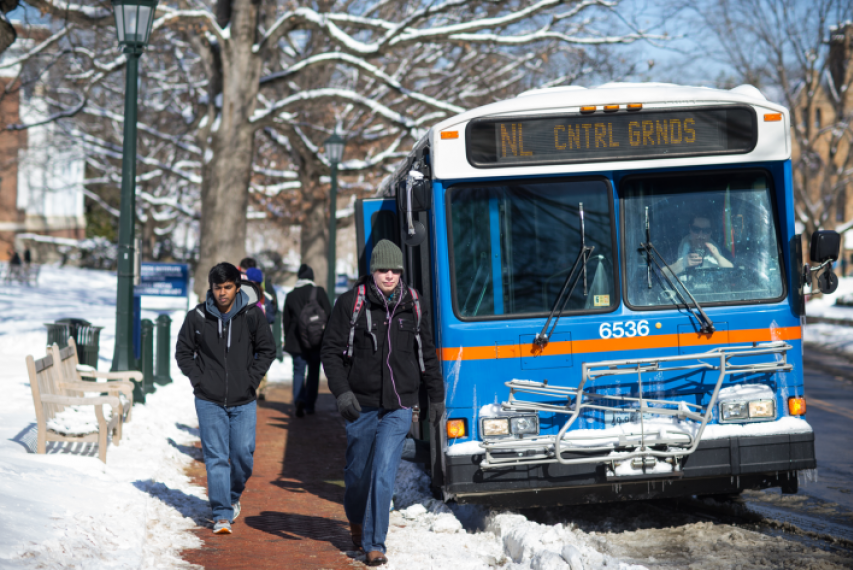 Winter has arrived with the potential for ice and snow to impact the University's operating schedule. Here is what you need to know about how UVA makes inclement weather decisions, and how to stay informed if classes are delayed or cancelled.
How does UVA decide? Before every inclement weather event, a team of University officials closely monitors developing weather conditions and assesses the University's ability to respond. The team reviews the expected impact on the University's infrastructure and facilities and the accessibility of parking lots, sidewalks, streets, and Grounds in general. If there is a schedule change, the University announces the change as early as possible to give you time to plan.
How can you learn about schedule changes? When the University or Medical Center modifies the academic schedule or health care operations, this information is made public in many ways: email, phone hotlines (434-243-7669 or 434-924-7669), radio, television, and on social media at:
Who needs to report to work if classes are cancelled? Even when classes are cancelled, many core University services remain open, such as patient care, University Police, Facility and IT operations, food services, and access to recreational facilities and libraries. To ensure that only those employees essential to critical services report to work when UVA is closed or on modified schedule, UVA assigns an emergency event status to all employees: "designated" or "non-designated." Employees should know their emergency reporting status and understand their responsibilities. Designated Academic Division employees should report as directed by their supervisor. Academic Division employees who work in UVAMC or UPG clinics should check with their manager regarding early closure or delayed openings if times are different from the Academic Division. If employees have any questions, they should talk to their supervisor.
How do employees know their emergency reporting status?Academic Division employees can check their emergency event status by logging into Workday and clicking on their profile picture (upper right corner) then clicking on "View Profile" to display their Job Details. Click on "Position." The designation will appear under Additional Information > Job Classification. Medical Center employees should refer to HR Policy 510, Emergency Event Declaration.
What else do I need to know? Charlottesville receives its fair share of ice, snow, and freezing cold temperatures. Be prepared for inconveniences of short-term power loss by investing in a phone battery pack. Keep an emergency go-bag with water, medications, emergency contacts and food. Dress appropriately for the weather with boots, gloves, and winter coats when you head out, even if you are traveling by car, in case you break down. Heed the advice of the hearty Norweigans: "There is no bad weather, just bad clothes."