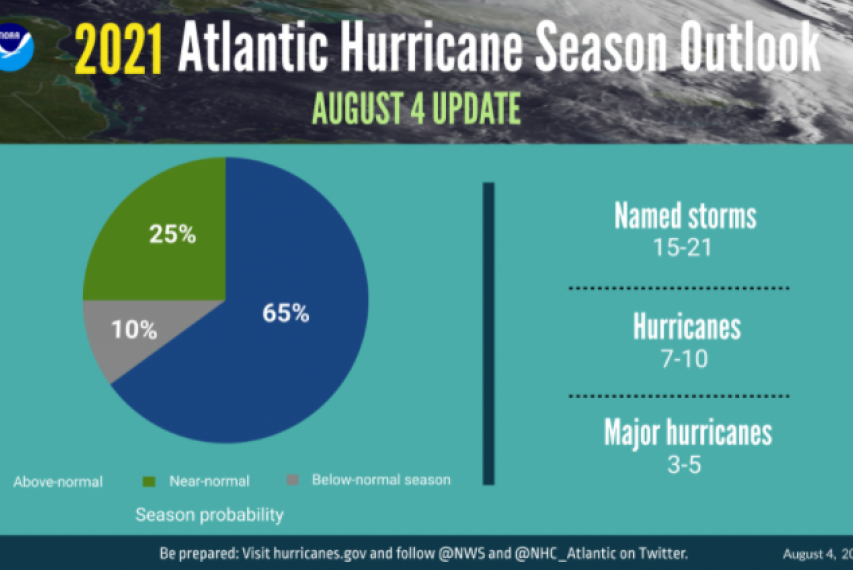 After a record-setting start, the National Oceanic and Atmospheric Administration (NOAA) has updated its hurricane outlook, predicting seven to ten hurricanes and three to five major hurricanes during the season that ends Nov. 30. Charlottesville may not feel the impacts of coastal cities, but UVA Grounds can still experience severe weather such as flooding, strong winds, tornadoes, and power outages.  
Because hurricanes can bring a combination of hazards all at once, the best approach is to prepare early. Pack an emergency preparedness kit for your home or car to ensure you have what you need. Similarly, plan redundant ways to receive emergency warnings, in case one of the systems fail. Some of the warning systems you can utilize include:
UVA text alerts
Weather Radios
Stay Safe in Severe Weather 
Tornadoes
Go to the lowest level of the building

If you do not have a basement or cannot access the lowest level, go to an interior room without windows. Bathrooms and closets work well.

Take shelter under a sturdy object such as a desk or in an area where heavy objects will not fall on you
Flooding
If you encounter a flooded road, turn around

Roads may look stable but saturated soil under the road could cause a collapse
Six inches of water is enough to flood car engines; a foot of water can cause vehicles to float
Avoid contact with flood waters because they can carry contaminates
Six inches of moving water can knock you off your feet

Check with your insurance provider about your flood insurance policy

Many property insurance policies do not include flood insurance
Strong Winds
Move lightweight objects that could be picked up by winds to safety indoors
Secure all objects that are too large or dangerous to bring inside (e.g., propane grill)
Document conditions of your home prior to a storm
Power Outages
Keep a small generator or backup batteries to power the essentials in you home

Never use a generator indoors. Generators need to be placed in a well-ventilated area where fumes will not go into your home

Ensure you have a few gallons or cases of water
Have a flashlight or other battery-powered light source
To stay up to date on hazards affecting UVA, follow the Office of Emergency Management @UVA_EM on Twitter.  For statewide information follow the Virginia Department of Emergency Management @VDEM.
Additional Links
University of Virginia Office of Emergency Management
Virginia Department of Emergency Management Hurricane Resources   
National Oceanic Atmospheric Administration Hurricane Safety Resources